Report for Nishinomiya's Dojo session on November 29, 2015.
Compared to its previous small number session, this time we had a large number of Ninjas and Mentors.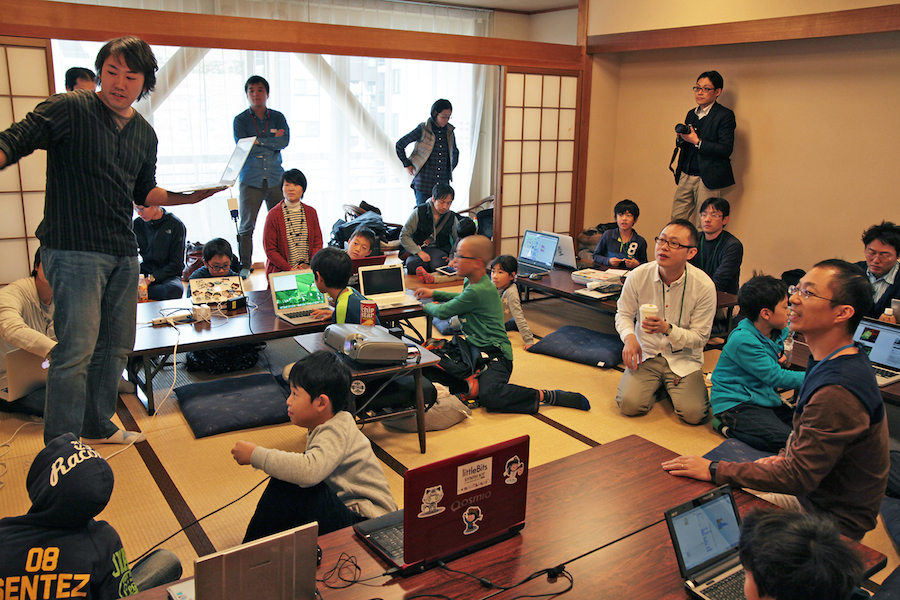 At Nishinomiya, several junior high student Ninjas join the Dojo. These elder Ninjas were concentrating on programing intensively.
One elder Ninja was learning Java and another was learning PHP. One of the great things here is not only the elder Ninjas, but also some younger Ninjas have started learning programing with enchant.js. enchant.js is a framework for developing simple games and applications in HTML5 + JavaScript. One of these enchant.js learners coded to create a sprite that is movable on a web browser.
Here is his cool presentation!

While the Ninja showed his codes and demos at the presentation, Dojo mentors looked very into what he showed.
The following photo shows Scratch learner Ninjas. Kids at the Scratch table seemed to get along very well together teaching each other and exchanging their ideas (*゚∀゚)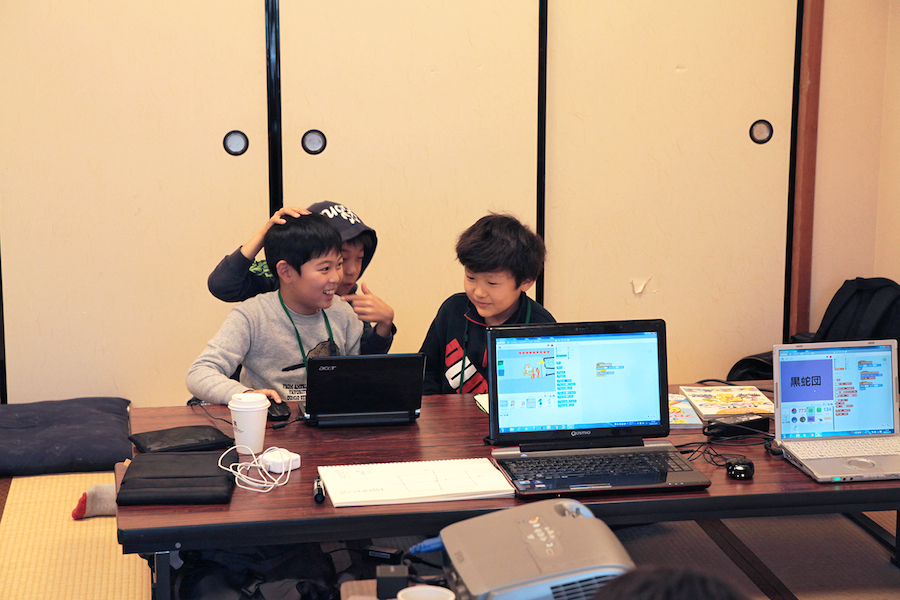 Also I could see some Ninjas moved to another fun Ninja's table and warmed up together. Scratch Ninjas worked as hard as elder programmer Ninjas.
By the way, our Arduino mentors want to attract kids more planning something very new and cool.
As the year 2015 is about to end, we have two Dojo sessions remaining. I'm looking forward to the next year's CoderDojo Nishinomiya/Umeda. There are currently many exciting plans and projects underway.
The final Dojos in 2015 are scheduled to take place on Dec. 20 at Nishinomiya, and on Dec. 27 at Umeda.
☆For kids, the following URL shows how to sign up our Dojos☆
https://coderdojo-nishinomiya.doorkeeper.jp/
☆Also new mentors are more than welcome to join us☆
https://coderdojo-nishinomiya.info/mentor
Special thanks to this session's mentors.
■Scratch
Nobuyuki Suma, Hiroyuki Okada, Shinya Saita, Kazuhiro Noshiro, Takashi Hosoya and Chiharu Nagatomi
■ HTML+CSS+JS
Ippei Sumida, Masafumi Terazono, Haruna Jinno, and Kite Koga
This post was translated from Japanese and edited. The original version was written by Chiharu Nagatomi. Chiharu also took all the great photos here.
Copyright (C) 2016 CoderDojo Nishinomiya/Umeda All Rights Reserved.